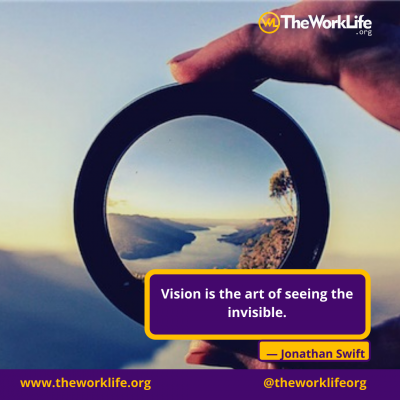 Work-Life Vision
In this new Month, we have decided to see again, a new vision of ourselves and our nation, Nigeria.
'Where there is no vision, the people perish' – Proverbs 29:18
One of the most important aspects of working with busy professionals in transforming their work-life is being able to guide them to personally create their ideal work-life vision. This exercise provides an anchor to the overall transformation process and helps them design their own version of success.
Just like organizations have their own vision that guides the direction of their business, individuals must be clear about WHY, HOW and WHAT they do, in a manner that is meaningful to them and their stakeholders.
The first thing you need to do in curating your ideal work-life vision and defining the trajectory of your life is to identify WHAT TRULY MATTERS TO YOU. Until you can prioritize your work and life, everything will always appear important and things that should not necessarily be given much attention will take up space in your life; that can be overwhelming.
Most of us dream of living a life different from what we are living currently, a rich life. A life where you are living the way you want, doing what would make you fulfilled, and most importantly surrounded by people you love. But the truth is, it would only be a dream because you cannot fathom how to make it work.
At the heart of "being clear" is your life vision – a document that spells out your intentions and ambitions – in all their glory.
The very process of developing your vision helps you gain clarity about what you want. And, by putting it in writing, you take a giant step closer to having it become your reality. Once your dreams are codified, they become more concrete, and you become more committed to achieving them.
Your vision can be a powerful and inspirational force for change. It would act as a constant reminder of your commitment about how you intend your future to unfold.
What vision are you seeing?
Feeling confused on how to define your ideal work-life vision and begin to live the life of your dream?
#TheHarmonisedLife @theharmonisedlife book provides a solution.
Happy New Month!!!